Call 0844 482 9672 to book directly from the theatre or Buy Tickets Online
From Official Tickets Agents
Booking from
Tuesday, 18 May 2021
Booking until
Sunday, 2 May 2021
Running time
2 hours 5 minutes
Performance Times
| Mon | Tue | Wed | Thu | Fri | Sat | Sun |
| --- | --- | --- | --- | --- | --- | --- |
| | | | | | 14:30 | 15:00 |
| | 19:30 | 19:30 | 19:30 | 19:30 | 19:30 | 19:00 |
The Play That Goes Wrong
Meet the Cornley Polytechnic Drama Society. They're absolutely dreadful, one of the most inept and talentless college amateur dramatics societies in Britain. When they come into an unexpected sum of money they can finally afford to stage a 1920s murder mystery. But everything that can go wrong does go wrong, as the group of horribly accident prone Thespians try, against considerable odds, to achieve the final curtain call.
If you like your plays funny you'll fall about laughing at the antics of this lot, a classic spoof if there ever was one. And it's already well on its way to becoming a cult theatre hit in the making. As Charles Spencer, the Telegraph's theatre critic, said: "For one hour the audience is bludgeoned with a succession of sight gags, mistimed lines, misplaced props and collapsing scenery that creates a rising tide of hysteria in the audience. I haven't laughed so much in a theatre since the last revival of Noises Off."
You will never forget the hapless police inspector who pretends to take notes using a bunch of keys and a vase. The chaos that happens when the butler serves raw white spirit to the characters because he poured the fake whisky into a coal bucket. Or the lead role, who has a brilliant knack of mispronouncing the simplest words. One of the funniest plays to hit the West End for ages!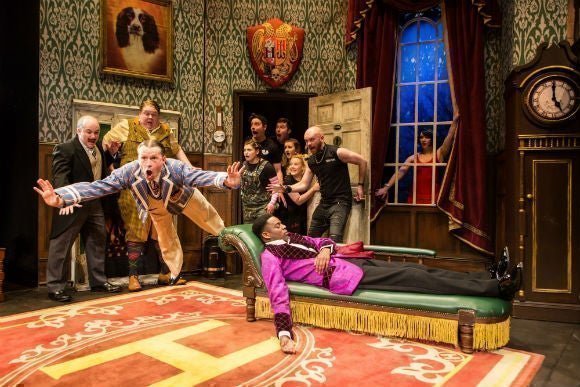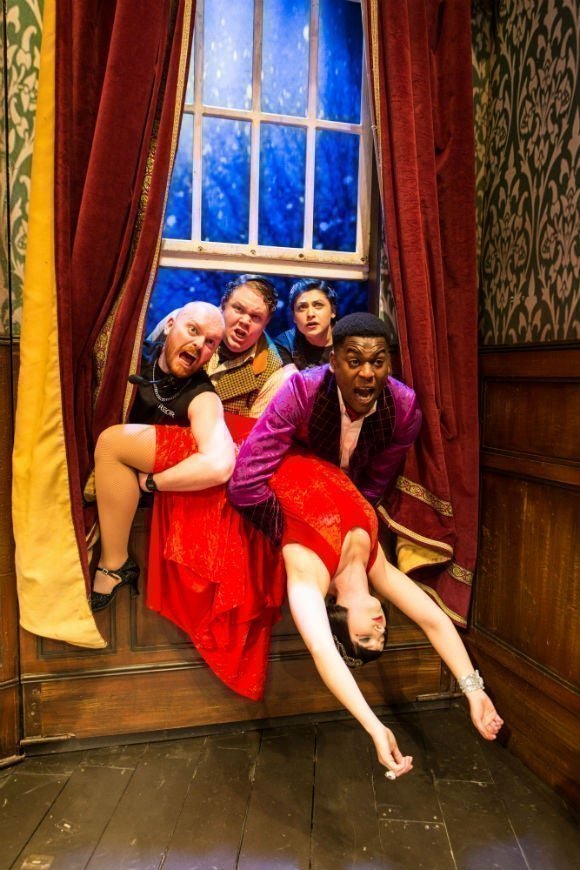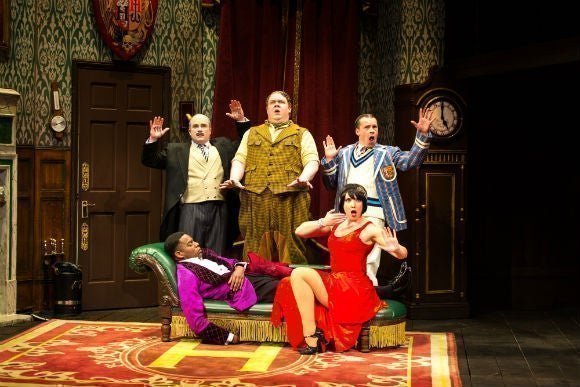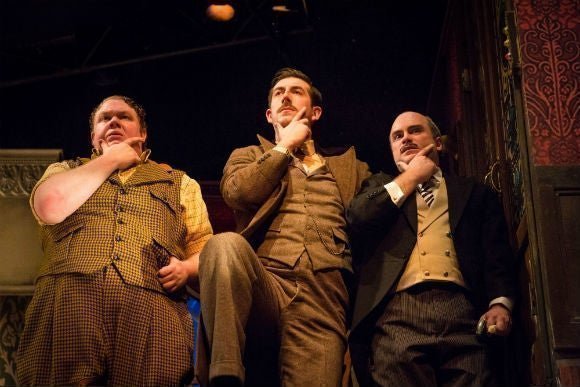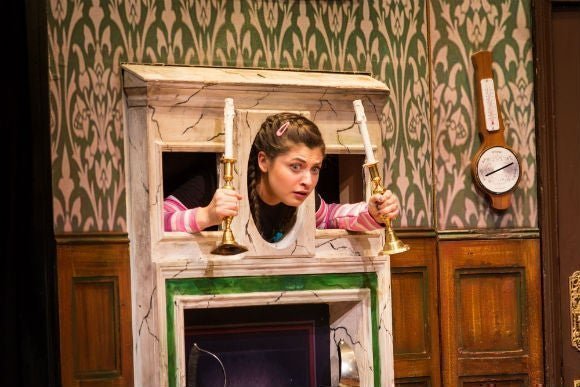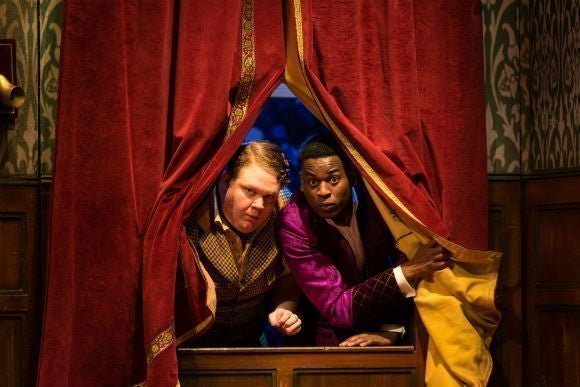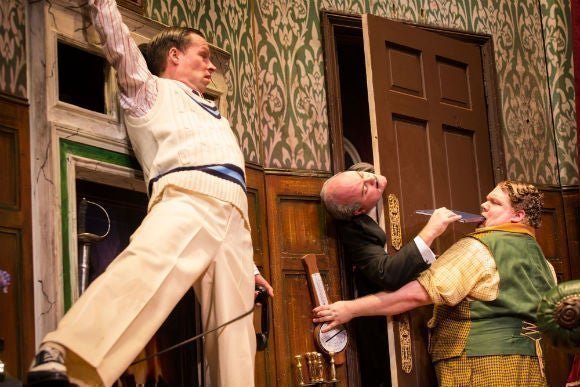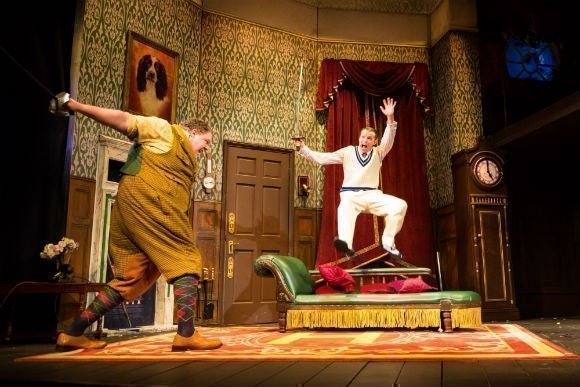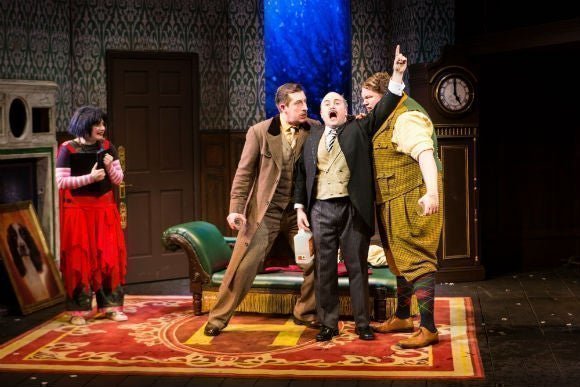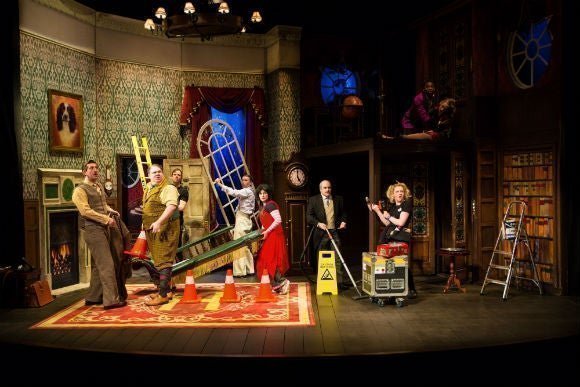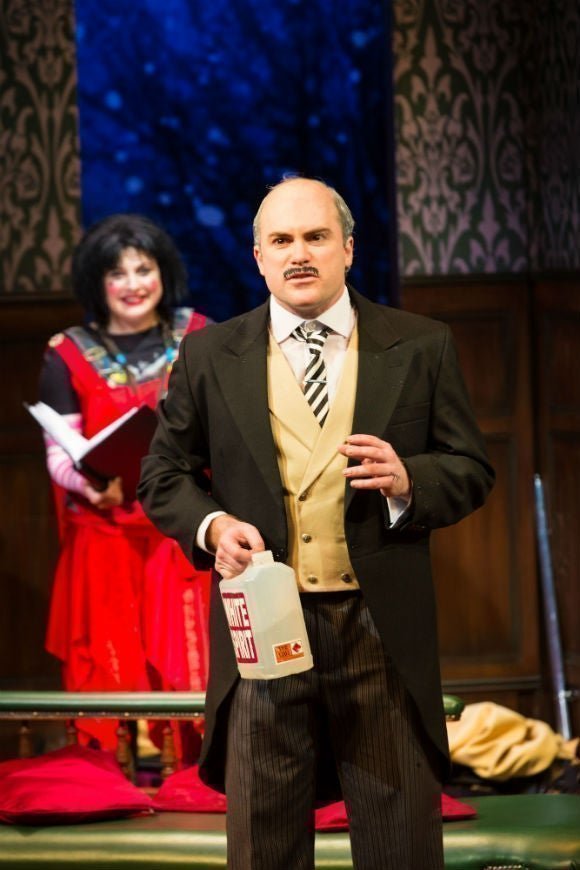 «
»
Audience Latest Reviews
Reviews Summary based on 1360 reviews
General:
What to expect
Acting:
Music:
Costumes:
Story:
Lighting:
Recommendations
Anyone:
Families:
Teenagers:
Young Couples:
Theatregoers:
Great Comedy Show, Whole Family Loved It!
My husband and our two teenagers absolutely loved the show; great acting, brilliant comic timing from all and lots of action throughout. Laugh out loud stuff. I was also impressed by the social distancing and efforts re COVID made at the theatre. All great.
Anne-Marie, 14 Dec 2020
Absolutely hilarious
I went with my mum for a change of scene in the weird world; it definitely brought many laughs along the evening! Very funny and would recommend for everyone to go see it!
jeanette, 13 Dec 2020
Great Play, will keep you laughing for 2 hours!
Great play in lovely theatre. Kept us laughing for the whole 2 hours with wonderful actors with impeccable timing throughout. Would recommend to all ages.
Martin, 12 Dec 2020
A feel good and funny winter pick me up.
Based on an amateur dramatic performance of a The Mousetrap with a touch of Hamlet pastiche-play, the production is a wonderfully timed combination of slapstick and comic delivery. There was a good warm-up session too. Actors seemed to engage a little better with the audience in the stalls and vice versa.
adele, 14 Sep 2015
Very funny
We thoroughly enjoyed the show both laughed all the way through. It was great to see something original
Helen, 14 Sep 2015
Good clean fun!
Making the accidental look accidental is the key to the success of this show. Well done! Excellent timing, both verbal and physical, to achieve maximum comedy impact. Go and have a very good laugh!
Mark, 13 Sep 2015
Is Unmissable a word?
I arrived with no preconceptions as I didn't want to waste the experience, I had avoided reviews!! I laughed from before the start (not explaining why) right through to the end, except for the bits where I screamed . I have no intention of explaining anything as I don't want to spoil any surprises. Acting is astounding, timing perfect, characters played straight for the best effect, which is in fact stunning. Only advice - asthmatics take your inhaler
Fiona, 09 Sep 2015
Very funny
Very funny, if a little reliant on slapstick in a couple of places. I would defiantly recommend it.
Andrew, 07 Sep 2015
Brilliant!!!
My husband and I laughed from the moment the play started until it finished, it is one of the funniest plays we have seen, well done to all the actors.
Jean, 04 Sep 2015
Unmissable
We laughed from the beginning to the end. Get there 30 minutes before the start time as there is pre show activity that shouldn't be missed as it enhances your enjoyment of the main performance. You can order interval drinks as you arrive which helps keep down the queue at the bar.
Keith, 03 Sep 2015